How governments and industry can complement each other
Illegal, unreported and unregulated (IUU) fishing is a global threat to the health and sustainability of our fisheries. Many key seafood industry actors – from suppliers to retailers – actively seek to ensure that no illegally caught seafood enters their supply chains. To strengthen these efforts, more effective cooperation is required among major market States as well as between market and producing States.
To demonstrate the benefits of more consistent import control schemes for fishery products, the EU IUU Coalition–made up of the Environmental Justice Foundation (EJF), Oceana, The Nature Conservancy (TNC), The Pew Charitable Trusts and WWF–hosted an interactive webinar on 21 April 2020. The virtual event brought together more than 200 participants from industry, government, academia and civil society.
Two crucial goals of the event were to show the advantages of better aligning the Key Data Elements (KDEs), which form the basis of market States' import control schemes, and why consistency among different systems needs to follow best practice lessons. These two goals combined would effectively help:
globally reduce the cost of complying with multiple systems for fishers and all other seafood supply chain actors;
prevent trade diversions of illegally caught seafood;
reduce bureaucratic burden; and
facilitate trade.
To this end, a draft industry statement was presented through which companies in the fisheries sector can express support for more consistency in seafood import control schemes. Several key industry actors have already committed to endorsing this document and further companies and associations are considering their support.
A total of five speakers from industry, the European Commission and NGOs delivered engaging presentations which were interspersed with rounds of questions and answers with the audience. The main points and recommendations from each speaker are summarised below.
The role of market States and why their joint efforts and good governance benefit industry

Emily Langley from TNC opened the webinar with an overview on existing import control schemes, delving into the responsibilities of market States, the need for aligning import controls and the resulting benefits for industry.
She outlined the key outcomes of the EU IUU Coalition's report which recommends a set of 17 KDEs, which should accompany any imported seafood product, for achieving a robust traceability baseline for import controls. These KDEs include for example, the catching vessel's flag, its IMO number and the catch area.
She also explained how well import control schemes currently align with each other against these best practice KDEs. Comparing the EU and the US, the research showed that 10 out of the 17 KDEs are aligned, in other words close to 60%. Evidently, there remains significant room for better alignment between the two largest seafood markets in the world.
Import controls schemes are vital to improving traceability and preventing IUU-caught seafood from entering the market. However, Ms Langley emphasised that there is a real risk of the emergence of an increasing number of non-harmonised import schemes. A lack of standardisation among them can lead to a situation where the different schemes' requirements may be poorly understood and design flaws could pass undetected and be repeated in new systems. For fishers and supply chain actors, the costs of complying with these different systems are considerable. Therefore, Ms Langley urged that better alignment of KDEs between major markets is an effective way to ensure a global level playing field and to facilitate trade.
The role of policy and industry in the fight against IUU fishing
Iván López, representing the European catching sector (Europêche), supported the EU's system for the purposes of combating IUU fishing. He emphasised how some up-front compliance costs for industry are far outweighed in the long run by the advantages resulting from the effects of the EU's IUU Regulation. This includes the creation of a more level playing field through less IUU fishing globally, the elimination of competitors resorting to illegal and unfair practices, and a more attractive sector for new generations of workers.
Mr López stressed the importance of encouraging countries to adopt the same robust standards as those set by the EU and the US, while these two major markets should be more ambitious and aligned. Europêche, he noted, supports strengthening certain requirements of the EU's catch certificate such as unique vessel identifiers, like the IMO number, by making them mandatory for all vessels of twelve metres or above, which operate outside national waters. He also advocated for the inclusion of the 'type of fishing gear' as a data field as well as specifying the catch area to a higher degree than the current FAO area codes, including whether seafood was caught within a national EEZ or the high seas.
Mr López concluded by putting forward a progressive set of measures to improve seafood traceability. He advocated for (i) the full digitisation of the IUU catch certificate, (ii) improved coordination and harmonisation of import controls across EU Member States to avoid trade flows diversions and (iii) better coordination between the European Commission services e.g. those for trade negotiations, sustainable fishing agreements and IUU dialogues, as well as the alignment of IUU policy with labour policy.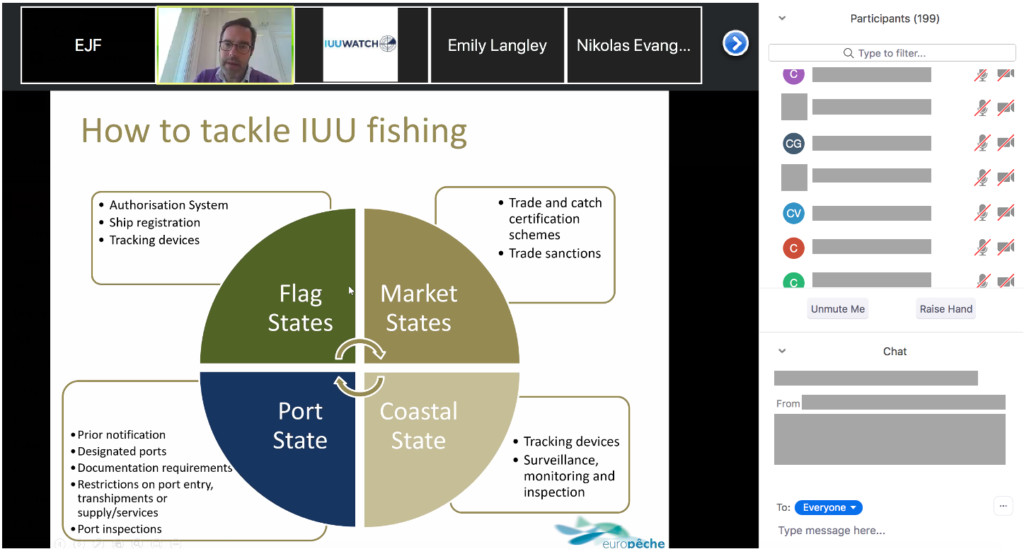 The role and benefits of digital import control schemes
Desiree Kjolsen from the European Commission's Directorate for Maritime Affairs and Fisheries discussed the advantages of CATCH, the EU's newly-developed IT system for the electronic processing of catch certificates. CATCH was set up to further eliminate potential risks of fraud and bureaucratic burden.
At the moment, CATCH contains a risk analysis which factors in the EU's carding decisions and the IUU vessel list as well as the functionality for national authorities to check if other EU Member States are carrying out ongoing verifications. It comprises an EU-wide quantity management to avoid overshooting of catch certificate quantities and thus prevents the fraudulent use of catch certificates. Ms Kjolsen highlighted the expected advantages of CATCH, from facilitating controls and verifications of seafood imports at EU borders, better cooperation among competent authorities, avoiding abusive use of catch certificates to reducing the administrative burden for Member States' authorities and all other stakeholders.
It is anticipated that use of CATCH for stakeholders in EU Member States will be mandatory a couple of years after the adoption of the revised Control Regulation which is expected in 2021. The ambition is to encourage expanded use of CATCH in the future, including by stakeholders in non-EU countries.
Lastly, Ms Kjolsen pointed to the need for increased market State cooperation, in particular in view of the FAO Voluntary Guidelines on Catch Documentation Schemes and key data elements, adding that the EU is already engaged in dialogues with the other important market States.
---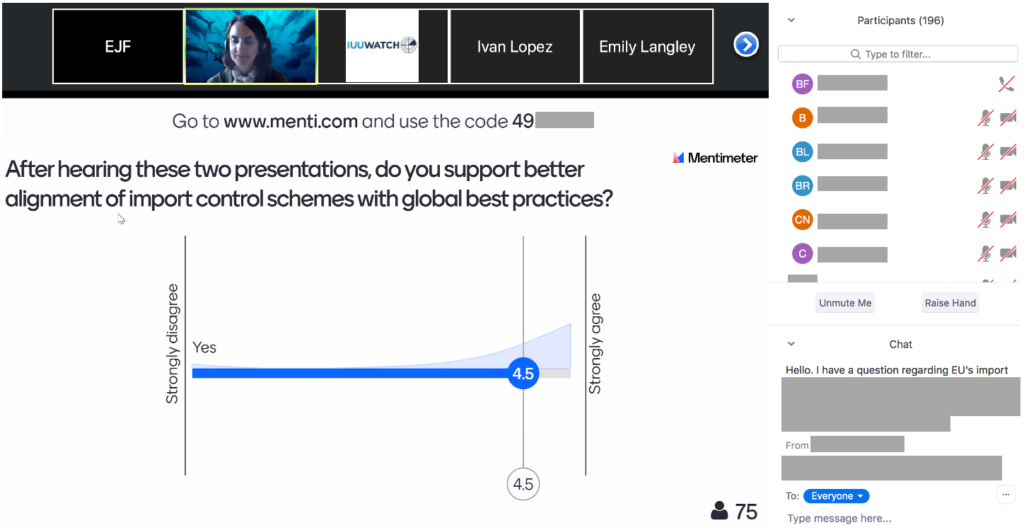 ---
Global Dialogue on Seafood Traceability
The seafood industry itself has also taken a proactive approach to improve traceability and interoperability. A major industry-driven initiative is the Global Dialogue of Seafood Traceability (GDST), which has been endorsed by a large number of companies, among them the ten biggest seafood companies in the world. Karim Ben Romdhane presented the initiative on behalf of the GDST Secretariat.
The GDST is a pre-competitive, business-to-business platform and a dialogue between seafood companies aimed at developing global voluntary guidelines on traceability. Its development was prompted by the urgent need to overcome traceability issues as a means to curbing IUU fishing, to reduce bureaucracy and to make business operations more efficient.
The GDST aims to promote the alignment of key data elements along the supply chain, digital interoperability, access to reliable and verifiable information on seafood products' origins and production methods, and to ensure consistent policies and a level international playing field.
The result of this cooperation is the 'GDST 1.0 Standards for Interoperable Seafood Traceability Systems'. These consist of altogether 41 KDEs for wild-caught seafood. Comparing the KDEs developed by the EU IUU Coalition with those of the GDST, Mr Ben Romdhane highlighted how the two were nearly fully aligned despite having been developed separately.
The implementation of the GDST Standards creates a common agenda between NGOs and seafood companies wanting to fight IUU fishing and to secure responsible sourcing. Governments should consider these standards as a key technical reference point that provides a basis for future policies that are globally coherent and support efficient business practices.
A Code of Practice to help industry assess and mitigate IUU fisheries products risks in supply chains
The webinar concluded with a practical example of how a retail company implements due diligence to assess and mitigate the risks from IUU fisheries products. The company's representative addressed the measures which the retailer undertakes to ensure effective due diligence in its supply chain, particularly with the help of a code of practice, the PAS 1550:2017.

Risks are evaluated thoroughly and based on collected data points informed by tools such as the GDST or the PAS. The representative explained that the in-house system has set priorities to identify which products were most important in volume and subsequently offered the greatest ability to drive change.

The PAS offers a due diligence framework, he noted, which is aligned with the UN Guiding Principles on Business and Human Rights and covers IUU fishing and human rights issues, thus reinforcing the ILO Work in Fishing Convention (C188).
Max Schmid from EJF, speaking on behalf of the PAS working group, explained how this working group has assessed the PAS' implementation thus far. These efforts have been instrumental in testing the guidelines of the PAS within a number of supply chains to help establish the legal origin of seafood products and assure decent working conditions in the sector. Results showed very encouraging signs that the vast majority of PAS guidelines can be effectively applied. The working group is in the process of drafting related guidance and a risk assessment checklist – a handy reference for businesses to verify information coming from suppliers.
In conclusion, the interactive webinar, which collected live feedback from participants on key questions, provided an excellent opportunity to bring together industry, policy-makers and civil society to explore the benefits of aligning import control schemes to effectively remove illegal fish from global seafood supply chains. The outcomes of this joint webinar were very encouraging and the EU IUU Coalition will continue to work towards further international cooperation among all actors involved in the global seafood supply chain to secure legal, ethical and sustainable fisheries now and in the future.
---
Presentations:
---
Video:
---