Background
The UN Food and Agriculture Organization's 2020 estimates show that 34% of global fish stocks are overfished and 60% are fished to full capacity. By the very nature of its activities, iIllegal, unreported and unregulated (IUU) fishing contributes to overfishing, threatening marine ecosystems and livelihoods of those who depend on marine resources.
Seafood traceability plays a crucial role for ensuring that products available in our markets are both legal and ethical, and is achieved by tracking seafood products along supply chains from the point of catch to the point of sale. The fight against IUU fishing and human rights abuses in seafood supply chains requires the efforts of all stakeholders, and the seafood industry plays a critical role in this.
Industry standards and guidance can help supply chain actors minimise the risk of consuming seafood that originates from illegal and unethical practices. The British Standards Institution (BSI) Publicly Available Standard (PAS) 1550:2017 is one such example that serves as an industry code of practice for exercising due diligence.
---
PAS 1550:2017
The PAS 1550:2017 is a voluntary code of practice developed collaboratively by seafood industry representatives and the Environmental Justice Foundation (EJF), The Pew Charitable Trusts, Oceana and WWF to help industry assess and mitigate the risks posed by IUU fishing in their supply chains. It provides recommendations for exercising due diligence to assess and minimise the risk of illegally caught seafood in the supply chain, and to ensure robust traceability of seafood products and decent working conditions in the seafood industry. It includes guidance on information that can be requested by processors, importers and buyers as part of their due diligence process and risk assessments.
Development of the PAS was undertaken with particular reference to the requirements of the EU IUU Regulation and the need for industry due diligence to determine if seafood has been legally caught, transported, processed and sold. In this respect, it builds on the BRC Advisory Note for the UK supply chain on how to avoid Illegal, Unreported and Unregulated (IUU) fishery products (published in February 2015).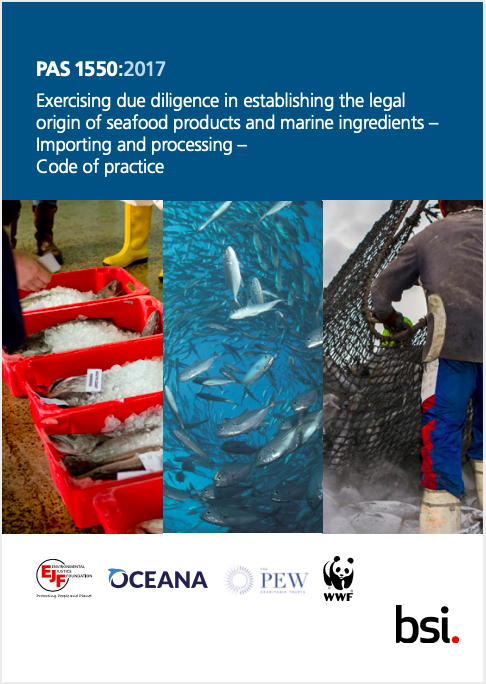 Reflecting the growing concerns of industry regarding human rights issues in seafood supply chains, the code of practice also includes recommendations designed to help industry assess whether or not imports were produced with decent working standards, with reference to the requirements of the International Labor Organisation's Work in Fishing Convention (ILO C.188).
To ensure it is readily available to anyone in the global seafood industry, EJF, Pew and WWF have made the PAS freely available for download through the Fish Forward 2 Project, which was co-funded by the European Union. Its content does not necessarily reflect the views of the EU.
The PAS 1550:2017 code of practice is available for free download here or by directly mailing one of the contact persons below.
---
Implementation Guide
The PAS 1550:2017 was published under license from the BSI in July 2017. Following feedback from existing users of the PAS, EJF, Pew and WWF have worked with input received from the Seafood Ethics Action (SEA) Alliance since 2019 to develop the PAS 1550:2017 Implementation Guide.
This document aims to support seafood buyers and their supply chain actors to exercise due diligence and assess risks within their own operations and supply chains, thereby enabling them to avoid purchasing, processing or transporting illegally caught seafood.
The Implementation Guide splits recommendations into three categories to help users from different starting points adopt recommendations and, eventually, go beyond them:
Base practice is intended for small seafood buyers such as hotels and restaurants who are starting their seafood buying journey.
Implementation of PAS/PAS compliant is intended for larger seafood wholesalers, processors and others who already meet the base practice level.
Aspirational practice is intended for established seafood processors, wholesalers, retailers and multinational hotel groups that have had several years working in this space.
The Guide also features:
The mapping of PAS recommendations against other standards sto indicate where a company or PAS user may already be fulfilling recommendations through implementation of one of these standards or vice versa.This standards include:
A Risk Assessment Checklist which serves as a template for questions seafood buyers can adapt and distribute within their supply chains to inform their risk assessments.
Flow Diagrams as a tool to inform risk assessments that were created using PAS 1550 recommendations organised by main topics. A legend is located at the top of each flow diagram to indicate what is considered a requirement or a risk assessment consideration, where there is alignment with data gathered in the Global Dialogue on Seafood Traceability (GDST) Standard 1.0, and what different colours of arrows leading from one question to another indicate.
The Shared Resources is a list of various external resources on the topics of IUU fishing, traceability, risk assessment tools and standards, and human rights in seafood supply chains.
The Implementation Guide is available for free download here as a PDF and here as an editable Excel spreadsheet. Copies may also be obtained by directly mailing one of the contact persons below. The Flow Diagrams are included in a separate document, available for download as a printable A4 version here and a digital long version here.
These documents have been made available through the Fish Forward 2 Project, which was co-funded by the European Union. Their contents do not necessarily reflect the views of the EU.
---
Risk Assessments using the Implementation Guide
The purpose of a risk assessment is to gather sufficient information to detect or determine the level of risk, potential exposure to or evidence of illegality occurring in the supply chain. The information provided in the form of a checklist should guide the due diligence process beginning with catching, procuring and processing seafood.
Generally, a risk assessment will not provide definitive evidence of illegality, but rather inform the need for subjective decisions based on the experience and perception of the seafood processor or buyer and products in question. Where a lack of information, irregularities with regulations or internal policies are identified via the risk assessment process, supply chain actors are able to obtain more information for better decision making, in accordance with the level of risk they are exposed to or should wish to assume. In the event that evidence of illegality is found during this process, supply chain actors should not procure the seafood in question.
The findings of risk assessments also help inform the levels of risks and point to measures organisations can adopt to mitigate those identified risks. The three main stages to implement risk management are captured in the figure below.
The guidance provided in the Risk Assessment Checklist is not an exhaustive list, nor is it descriptive of a full risk assessment process. Rather, it attempts to reflect the overall recommendations of the PAS 1550:2017. The Implementation Guide should be used to help interpret the information collected through the Checklist's questions.
---
Translations
PAS 1550:2017 is now available in Spanish PAS 1550:2017 Ejercer la diligencia debida al establecer el origen legal de los productos del mar e ingredientes marinos – Importación y transformación – Código de conducta
Work is underway to translate PAS 1550:2017 and the Implementation Guide into German and links will be provided here upon completion.
---
Contact details
Clarus Chu (WWF-UK), cchu@wwf.org.uk
Katy Hladki (Pew), khladki@pewtrusts.org
Max Schmid (EJF), max.schmid@ejfoundation.org
Publications
PAS 1550:2017 ﹘ Exercising due diligence in establishing the legal origin of seafood products and marine ingredients – Importing and processing – Code of practice, July 2021
EN
PAS 1550: Implementation Guide, July, 2017
EN – PDF | EN – Excel
PAS 1550:2017 Flow Diagrams, July 2021
EN – printable | EN – long form digital