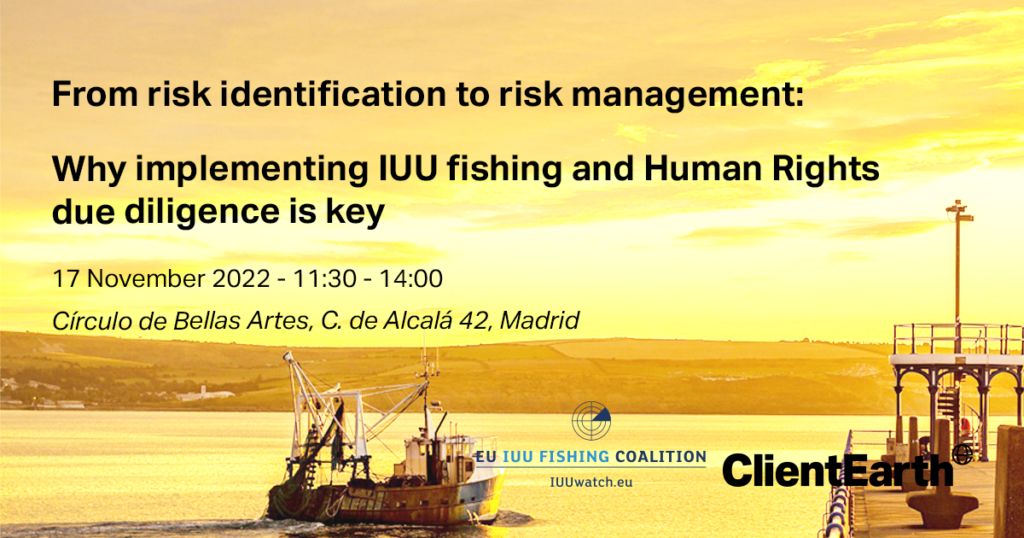 The EU IUU Fishing Coalition* and ClientEarth are pleased to invite you to a workshop focussing on implementing effective due diligence in the Spanish seafood supply chain.  
Appropriate due diligence is vital if businesses are to prevent IUU seafood from entering their supply chains, as well as to prevent products produced with forced labour or linked with other human rights abuses from being sold. In this event, you will hear from practitioners about the importance of due diligence in the seafood supply chain, learn what businesses can do and find out about best practices that have been successfully implemented and scaled up by businesses.
With a focus on the Spanish market, we will be joined by expert speakers who will:
Present our new report "IUU fishing, working conditions and the Spanish seafood industry: The importance of supply chain due diligence" and the conclusions from this new piece of research.
Present the risk assessment tool PAS 1550:2017 and demonstrate how the tool can have a positive impact on the seafood supply chain in Spain.
Have an open and engaging exchange with scientists, industry representatives and other stakeholders sharing their insights, needs and solutions.
The event will be simultaneously translated in Spanish and English.
For more information or questions on the event please contact Andrew Carryer (Andrew.Carryer@ejfoundation.org) or Paloma Colmenarejo (PColmenarejo@clientearth.org).
*The EU IUU Fishing Coalition includes the Environmental Justice Foundation (EJF), Oceana, The Nature Conservancy, The Pew Charitable Trusts and WWF who are working together to promote EU leadership in improving global fisheries transparency and governance to end illegal, unreported and unregulated (IUU) fishing.